A kitchen is the heartbeat of a home and a common gathering place for friends and family. Find out what trends will keep yours up-to-date.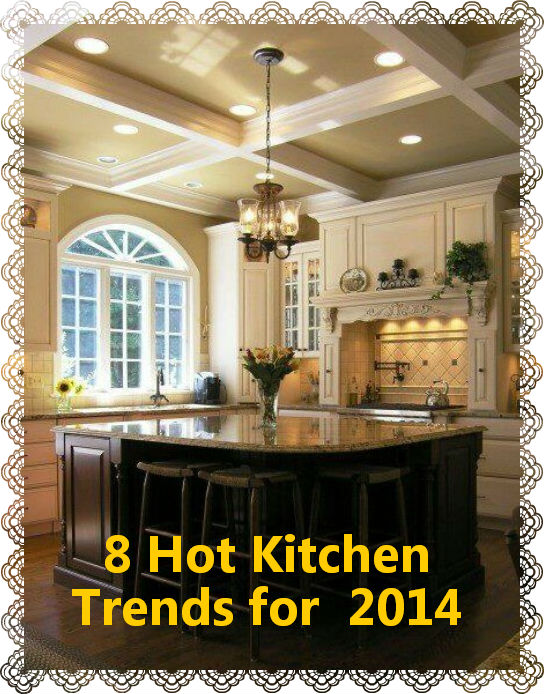 The 8 top picks that homeowners revealed about their kitchen remodeling plans may surprise you...
1. Cozy is Okay. Kitchens don't have to be huge to be attractive to homeowners. What is important is having an open feel despite the smaller area. One way to achieve that spacious feeling is by adding an island, or bar area, with seating for guests and removing extra full length walls if possible.
2. Open The Floor Plan. Families and friends naturally tend to congregate in kitchens. Homeowners have continued to design their kitchens to accommodate a more social experience. In fact, 77% of re-modelers will be opening up their kitchens to surrounding rooms for a more spacious feel. An open floor plan keeps the home cook involved in conversation, and creates a warm, fun gathering place for company--a win-win!
3. Choose Granite. Granite and quartz counter-tops are the most popular choices among home re-modelers. Although the initial investment is large, their durability and timeless quality prove worth the expense. Available in limitless colors, both options work well with any decor.
4. Mix and Match. It is not only okay, but trendy to play with mixing various materials, colors and finishes. Gone are the days when everything must match perfectly to be stylish. Try playing with the finishes of your appliances--think brushed nickel with black. If you're nervous about mixing finishes with more permanent fixtures, try adding a splash of color with accent tiles, your paint choices or the finish on an island. Tip: For a bold 'surprise' try painting the insides of your cabinets an unexpected, fun color.
5. Choose Neutrals. Modern kitchen re-modelers tend to opt for conservative, neutral colors more often than not. The neutral tones allow for cohesion in the popular open floor plans in many houses. Try bringing in colors from surrounding rooms to tie in the space and add flair.
6. Style Changes By Generation. Younger homeowners tend to opt for more modern, minimalist designs featuring clean lines and sleek surfaces. More mature homeowners are likely to prefer a more traditional feel with warmer wood tones, ornate lighting and extra ornamentation. Both are beautiful. If you're undecided, take a look at the rest of your home to find a suitable direction for your kitchen.
7. Bye, Bye Linoleum! No longer is hardwood flooring reserved for living spaces and walkways. In fact, hardwood has become the top choice for kitchen re-models, followed closely by tile. Available in a wide range of color options, choose a wood tone to accent your cabinets and counter top choices. Durability is key for a kitchen floor, so be sure to keep wood floors oiled properly to minimize wear and tear. READ: How To Care For Wood Floors.
8. Green Is In. Nearly half of homeowners believe that purchasing eco-friendly appliances is important. Not only are energy efficient models good for the environment, they will also help you save electricity, water and money. The investment in new appliances will pay for itself sooner rather than later.
*Statistics from a 2013 Houzz survey of 7,812 home owners.